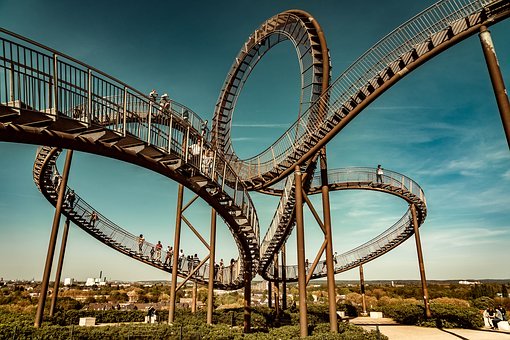 We all have one crazy thing we want to do. (Well, maybe more than one.) For some, it's bungee-jumping, or scuba diving. Yet, one of the craziest, most euphoric sensations can come from simpler things, like roller coasters. Amusement parks is a growing business, and they introduce new rides every time. Without doubt, these 5 roller coasters are insanely terrifying. You think that you would dare to get on one of them?
Kingda Ka
This giant roller coaster is "one of only two Strata roller coasters." This means that it allows a whole other level of insanity, dropping from above 400feet. The Kingda Ka is located in Six flags park in New Jersey, one of the biggest roller coaster parks in the world. In addition, this roller coaster has the longest initial drop, which along side with its many twists, make a ride in it a life-time experience.
Sky Scream
Literally as scary as it sounds! the Sky Scream is one of the prominent roller coaster rides in Europe. Hosted by the Holiday Park, which started operating in 2014 in Germany. Although it's relatively a short ride compared to other roller coasters, the Sky Scream triggers a mix of sensations in just a few minutes. It has vertical twists going up, vertical twists going straight down, you have loops and 360-degree horizontal twists. Basically, everything you need for a quick endorphins rush.
Formula Rossa
Ferrari World in the UAE presents you with the fastest roller coaster in the world. Actually, it aims at recreating the speed sensation of Formula 1 races. So, if you would dare to get on this crazy ride, then you must expect a speed that can hit 149 mph. In addition, if you are not into that dizzy sensation of twists and loops, you'll like this one. PS: On this ride, you only have a ap-restraint keeping you in. So, would you do it?
El Toro
If watching the video almost made your heart drop, then imagine being on this crazy ride. The Bull or El Toro, is the second-fastest wooden rollercoaster in the world, and you can find it at Six Flags Amusement Park. Even more, one of a few wooden rides with loops and drops. Expect it to go as fast as 70 mph, and feel as bouncy and terrified as you've ever felt in your life.
Banshee
Finally, the Banshee is definitely the craziest ride at Ohio's Kings Island. Not only for the speed factor, but also because it's the world's longest inverted roller coaster. Yes, it's quite terrifying, especially when you are hanging from the track with your feet in the air. It's over 4000 feet long, and has 7 inversions, and all of that with your legs swinging free…Let that sink in for a minute!
Photo: Pixabay.